When you're planning your wedding table decorations, cherries might not be the first thing that springs to mind. However, these dark richly coloured shiny fruits can add a touch of splendour and indulgence to your wedding decor.
What a pretty way to display your table numbers! Little silver buckets filled with delicious cherries, and a pretty homemade paper flower on a stick to mark each guests' table.
You can buy buckets like these cheaply on Amazon for £8.49/6, making them a very economical way to decorate your wedding tables.
Here, the little bucket of cherries has been used alongside a pretty lantern filled with beautiful deep pink rose petals. Combined with a simple arrangement of pretty peonies in a glass vase, it makes a stunning centerpiece for your wedding table.
Cherries are used inside the lantern too…
… and strewn across the table – a tasty, elegant alternative to confetti or table sprinkles!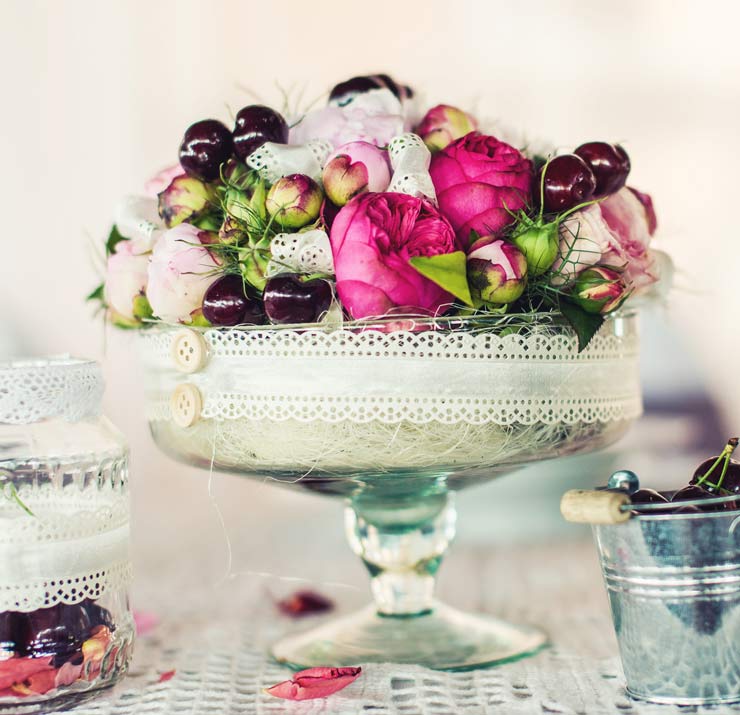 This gorgeous wedding centerpiece continues the cherry theme, with peonies and rosebuds mixed in with pretty white lace. A simple lace and button trim adds an elegant finish to the simple glass bowl.
Here's the view from above – the colours are just stunning and the green buds add a lovely fresh contrast.
The bowl blends beautifully with the other pretty table decoration.
The same simple lace band and button design is repeated on small bowls of petals and cherries providing further matching decorations.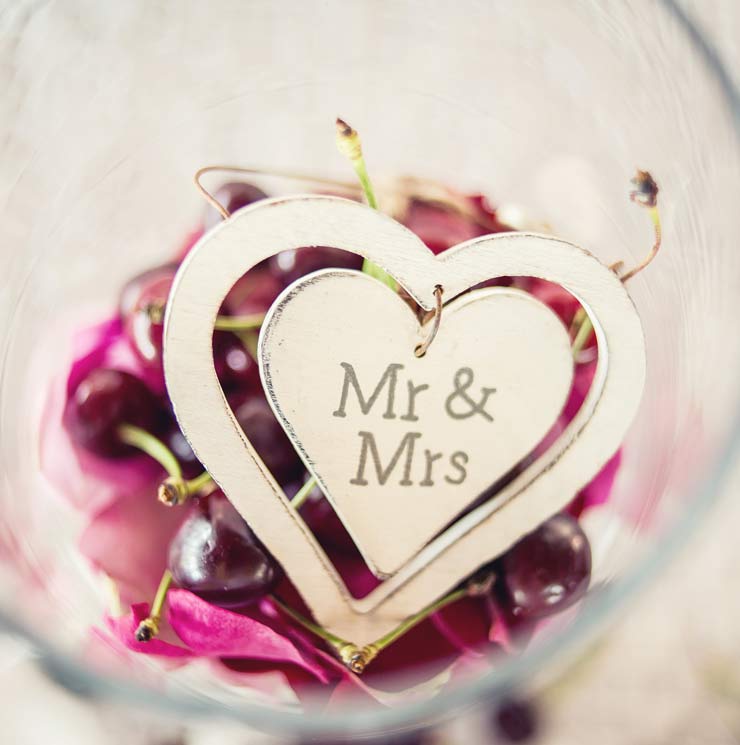 Here, small jars of cherries and pink rose petals make lovely decorations for the individual guests' places. Tags like these can be picked up from Amazon for as little as £2.41/10.
The simple flower arrangement of peonies in a plain glass vase is not so simple – look closer and you will see that the vase is lined with pretty ivy leaves to give it extra colour and interest.
The table decorations pick out the colours of the bride's flowers which are interwoven with lace in the same way as the bowl of peonies and roses.
A tower of sparkling cup cakes continue the look with similar colours to the flowers and decor.
What a beautiful wedding theme! I hope it has inspired you to design and create your own beautiful cherry-themed wedding decorations.